Saturday, July 22, 2006
IRPD is CLOSED for Business
Hi folks. I am shutting this project down for the time being, as I have way too many irons in the fire at the moment.
Thanks for stopping by.
Rich.
Saturday, March 04, 2006
The Arm of the Lord
Cabaret Voltaire
Mute
1985's The Arm of the Lord finds
Cabaret Voltaire
at the crossroads between their early experimentalism and all out dance and nascent techno, and certainly much further down that latter road than Red Mecca and 2 X 45 or even Micro-Phonies.
But as 'normal' as it sounds, it's much weirder than most eighties pop records with many samples of Charles Manson, movie clips and lots of signature Cab-Volt noise. This is definitely the record that served as the template for a young Alain Jourgensen, when creating Ministry 1.0.
And this record actually served as a point of entry for me to Cabaret Voltaire's intimidating discography, as it was the first Brit-dance-pop thing that my brother played for me that really turned my head.
Check it out.
Tuesday, September 13, 2005
The Evolution of the Dark Side of the Moog
Pete Namlook & Klaus Schulze
Ambient World (Germany)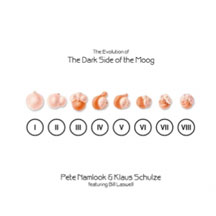 Not only is this my first listen to any of this long running series, but I also got it just days prior to hearing about Robert Moog falling ill due to a brain tumor. His passing compelled me to give it a listen again, and his spoken introduction makes me both sad and yet also introspective at the music revolution he launched as is apparent from this album. As a friend told me that this sounds like a long lost Jean-Michel Jarre album, and I'd have to agree. It's very deliberately old-school-save for the occasional not-too-ancient sounding drum machine
- and happily so. One could imagine futuristic (by late seventies reckoning) spaceships careening around the room, Carl Sagan in his dandelion-seed spaceship or recall a lysergic memory or two from the pre-Reagan era. Namlook and Schulze lay down big fat Moog lines in a giant, cosmic reverb-y void. All the song titles reference a Pink Floyd song, albeit in a cheeky, rearranged manner (Phantom Heart Brother, Careful With That AKS Peter, etc.) but it's not very Floydian. Folks who stopped listening to music after Tomita, Vangelis Tangerine Dream peaked can have a reason to rejoice and lament no more that the future ain't what it used to be. I've been listening to it for weeks and I'm still not sick of it.
Filmtracks 2000
Bill Laswell
Tzadik
An odd, mixed bag from Laswell, from the ongoing Tzadic film series. It's not altogether clear if any of this songs have been used in any movies and most are only cinematic by virtue of their exotic, world-beat nature, the emphasis here being on Middle Eastern music styles.
Oum El Bouaghi
is a great integration of Arabic music styles with dub and
O Haji Baig
has an almost Turkish flavor to it. Some sound like extracts and/or out-takes from other Laswell projects and indeed
Deadly Haven
seems lifted out of the middle of 2000's
Lo. Def. Pressure.
Fans and completists of Laswell's recorded output would do well to snap this up (I did), even though, taken as a whole, it seems kind of redundant or unnecessary.
Monday, September 12, 2005
LSDC&W
Eugene Chadbourne
Fundamental
For those intimidated by the formidable size of the good Doctor's discography, this is probably the best jumping in point. It focuses primarily on his pre-Shockabilly days and features not only that line-up (Mark Kramer, David Licht) but also some of his collaborations with John Zorn and Tom Cora. There's more of his mutant hybrid country/jazz/psychedelic/hoe-down stuff than in later bands/pairings, etc. The Beatles medley simply must be heard to be believed. There's also some early stabs at sound collage in the style that was soon to be a staple of his home recorded output.
This has been released by Chadbourne
and may vary from the earlier version put out by Fundamental Records in the eighties.
Faith Moves
Nicky Skopelitis & Sonny Sharrock
CMP


I'd always wondered what this collaboration between these two guitar giants would sound like and now I know. Nicky Skopelitis is responsible for most of the string sounds on peak-era Material's albums, playing guitar, oud, baglama as well as Coral sitar, a cheesy, sixties novelty which Skopelitis has mastered and forged a distinctive sound all his own. Sonny Sharrock was undisputedly the John Coltrane of the six-string guitar. He could summon up a brain frying barrage of jazz notes one moment and the next beautiful, soulful passages worthy of Bird or Coleman, all with a fat, warm overdriven guitar tone that would've had Fripp or Santana green with envy.
This album features surprisingly upbeat, bright sounding compositions with Skopelitis providing exotic, multi-ethnic beds of music for Sharrock to solo over or at times play counterpoint to.
Beautiful.
Fans of the nineties incarnation of Material will undoubtedly love this album as most of that era's crew is on board.
Will Work for Beats
Gonervill
Innerhythmic
If there's such a thing as instrumental hip-hop, here's a mega load. Lots of cool beats from Brain (Primus, Buckethead, Praxis), with turn-table-isms from Extrakd and Eddie Def. This is slick, urban driving soundtrack music at it's finest, with organic, funky beats and lots of vinyl-melting scratching and mixing. Deep bass by Laswell (credited here with Realization) and surprise guests Buckethead, M.I.R.V. and others. Get real Gone.
Monday, August 01, 2005
Another Day on Earth
Brian Eno
Hannibal
Brian Eno's first
'song'
album in over 20 years is understandably a highly anticipated event for fans and casual fans alike.
As one of the former, I agonized over buying this album for a number of reasons. I had no expectations of this being another quirky foray into his chatty, bizarre and frequently conversational lyrics, - he'd been heading away from that since
Another Green World.
One of my fears was that perhaps Eno wouldn't have anything particularly interesting to say with lyrics, either artistically or intellectually, after all these years.
I'm very happy to report that I'm not disappointed in the least. One of the things I highly value in Eno's art is that you never really know what to expect, so suspending all preconceptions went a long way in my enjoyment in this process of (re)discovery.
Decades of creating beautiful - and sometimes unnerving - sound sculptures has honed his studio skills to razor sharpness. And that's evident from a casual, surface listening to most of the tracks; Eno is one of the few artists who can make sounds sound as if they are originating from inside the listener's head.
Lyrically, His songs deal with world events, global welfare and come from a perspective one would expect from someone involved with
The Long Now Project
, a think tank centered around very long-term (
10,000 years!
) global planning. Although some of the songs showcase his randomly generated- and in some cases, apparently computer generated - approach to lyric writing, many have beautiful, contemplative lyrics.
How Many Worlds
asks
"How many people will we feed today/How many lips will we kiss today?/ If we wake up."
over a piano and swelling mock string arrangement.
Caught Between
displays his always great sense of balancing words as a sound poem with a beautiful, engaging melody. The title track,
Just Another Day on Earth
is one of the most gorgeous- yet accessible things Brian Peter George St. Baptiste de la Salle Eno has ever produced- so much so that it'd be easy for me to forgive him if it made a dent on mainstream, MOR radio here in the states.
The album ends with a strange, seemingly computer constructed piece, called
Bone Bomb
, complete with apparently artificial fem-bot vocals, as if to remind us that he's every bit weird as he was the day he parted with Brian Ferry and company.
This is a marvelous addition to any Eno fan's shelf, nestled beside
Warm Jets, Tiger Mountain, Green World
and
Before and After Science.
Monday, July 25, 2005
Break Through in Grey Room
William S. Burroughs
Mute
Hear cool sound recordings and early tape experiments from WSB and Bryon Gysin from this seminal period of their careers. It's a perfect backdrop for reading Soft Machine, The Ticket That Exploded or maybe even the Word Virus anthology.
See comments for details.
Tuesday, July 12, 2005
The Power to Believe
King Crimson

Sanctuary
A slab from this nearly 40 year old prog rock band that proves it can still take on all newcomers to the field. As Fripp has often stated, King Crimson comes together when they have relevant music to play and/or things to say. And this time around this thematically tied together album seems to be about our beliefs and perceptions, faith and the mass spectacle society.
Level Five
, the album's opener after a brief a capella of the thematic motif, is a
Lark's Tongue-ish
scorcher that proves that no one but Robert Fripp can coax cello-like nuances from his guitar at one moment and frenzied, terror shrieks the next.
In fact, this
whole album
hearkens back to an earlier period of KC's history. The device of stringing this outing together with the
Power to Believe I,II
and the
Coda
are reminiscent of the
Peace
chorus on
In the Wake of Poseidon
.
Level Five
somewhat resembles the title track from 1974's
Red.
And the inclusion of the beautiful artwork of P.J. Crook throughout brings to mind the Peter Sinfield era of this band's back catalog.
Not that this is a derivative or nostalgic album by any means; there is enough here that would give Tool, mars Volta, et al, a run for their money. The pastoral sounding
Eyes Wide Open
is one of Adrian Belew's most beautiful songs yet, and seems to be about where the individual finds himself today.The very aggro-sounding
Facts of Life
sounds like Ministry on a very good day, transcribing the rationale of the Project for the New American Century with the lyrics:
Six billion ants, crawling on a plate/ Six billion ants, crawling on a plate, /none of them give back as much as they take.
The very post-modern (for a prog-rock band)
Happy with What You Have to Be Happy With,
complete with amusing placeholder fill-in-the-blanks lyrics, has one of the catchiest, most life affirming choruses to date.